A new probe of Dark Energy
Large scale structures, such as groups of galaxies, galaxy clusters, and superclusters, have long been the workhorses of observational cosmology. Now a new way to observe them promises to provide new insights to one of the most mysterious ingredients of our Universe: dark energy. In an expanding Universe of any composition, the average matter density within the scale on which a structure detaches from the Hubble flow, usually termed the turnaround density, is universal: the same for all cosmic structures at a given redshift, independently of their mass or their growth history. In a recent publication, IA-FORTH scientists, led by Prof. V. Pavlidou, showed that the low-redshift evolution of the turnaround density constrains the cosmological parameters and it can be used to derive a local constraint on ΩΛ,0 alone, independent of Ωm,0. The turnaround density thus offers a promising new method for exploiting upcoming large cosmological datasets.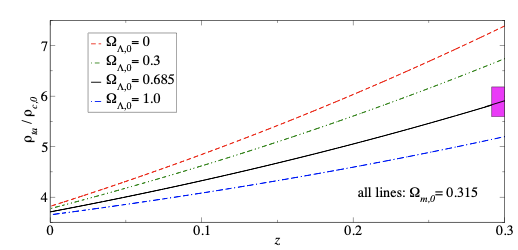 Article: V. Pavlidou, G. Korkidis, T. Tomaras and D. Tanoglidis, Turnaround density as a probe of the cosmological constant, A&A, 638, L8 (2020).